Why Black is the New Green organisers are from all over the UK. We recognise the integral links between anti-racist struggle, social justice and environmental injustices. We are committed to integrating an anti-oppression framework and analysis into all of our work.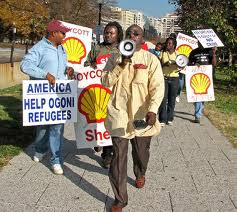 Categories:
democracy
Campaign location: Scotland
Our aim is to connect our communities fighting for basic human and environmental rights whom refuse to let ourselves or those close to us, live in uninhabitable conditions. We will continue to provide tools and perspectives for developing multiracial perspectives and inclusive strategies for action to defend our communities for dignity and justice in the face of growing inequality.
April and May 2011 witnessed a surge in a from anti-racist and environmental campaigners. Racial justice and environmental justice are increasingly converging issues and the battle to halt runaway climate change is being fought on the grounds of environmental racism – the disproportionate affect of environmental damage on people of colour across the world.
'The Black Gold Injustice' programme is the first in a series of a growing network of leading anti-racism, social and environmental justice organisations and campaigners in the UK (see below). This resonates with the well-known US movement on 'environmental racism'. Similarly as in the US, a movement for civil disobedience is forming led by the communities of colour and poor neighbourhoods affected by the pollution and supported by those planning to take radical action to stop the pollution. The issue of environmental racism is well recognised in the public domain in the United States.
High profile civil liberty organisations and human rights advocates came together to challenge human rights violations towards Black communities. These are people who are exploited worst by carbon intensive industries, from families exposed to oil flares in Nigeria to African workers exploited by the oil industry in Scotland. The UK is a key point of leverage – multinationallcompanies (MNC's) rely on top Universities for recruitment that is why students and communities are coming together to expose the situation target the pressure points by weakening the deep links between Shell, BP and the Universities.
Environmental Justice is not just a class issue but increasingly seen as an issue of anti racism.
There are many human stories and increasingly recognised statistics (i.e. worst air pollution in London significantly affecting Black and Ethnic Minority (BAME) communities) (1). Just as the global implications of climate change hit communities of colour in the global south first and worst (2), in the UK, fresh evidence highlights that ethnic minorities are more exposed to low air quality, a social consequence of carbon heavy industries (3).
A global economy based on fossil fuels will lead to more natural disasters, resource wars and scorched frontiers of oil & gas exploration. Across the world, it is our Black and indigenous communities who are hit hardest by climate change and pollution. But why should these groups be denied the right to livelihood, or to clean and healthy environments? Social justice movements can challenge the 'environmental racism' embedded in our dependence on fossil fuels.
There are a number of movements that are already happening where within Black, Asian and Ethnic minority communities affected by environmental inequalities in the UK. We will see a tour in late 2011 to the US from the UK to develop links, share research and build a grassroots transatlantic movement. A speaker tour of oil affected Delta communities will soon hopefully come to Britain to organise on race and environmental grounds (4), pressure politicians & company's to address issues of environmental and social injustice.
Reflections on The Black Gold Injustice by the African Caribbean Network: Where Next?
A&CN was proud to launch the Black Gold Injustice: Why Black is the New Green series of talks at Glasgow University African Caribbean society in a discussion facilitated by outgoing GUACS Chair Amani Aydeeri Mugasa and incoming GUACS Chair Alex Makilliwa – our thanks to them for allowing us to take time out of their annual officer elections.
We began by focusing on the Niger Delta region and the experiences of Chimezie Umeh (A&CN Acting Chair) during his visit to the region and the impact of oil exploration on the environment with oil flaring and constant spillage ruining the land for agriculture and bringing few benefits to local minority groups. How this contrasted with the residential site at Bonny which oil companies had ensured was a clean environment for their largely expat staff to live in. It showed that oil companies could clean up their act if pushed but that Nigerian governments had previously not been effective in doing so.
Dan Glass focused on the links between race and environmental justice, how Black Minority Ethnic (BME) communities were experiencing the brunt of pollution. He talked of the climate change refugee challenge in developing countries and how those countries had teamed up in Copenhagen in December 2009 to demand changes from the developed countries; and educated us on thinkers like US Activist Van Jones and Capacity Global who are making the link between racism, poverty and environmental injustice movements.
Graham Campbell focused on carbon emission reductions and lifestyle changes in the Scottish African Caribbean communities. He asked people how many walked, used public transport, or cars for their journeys. So – How green is the African Caribbean community? Pretty green as we tend to live in or near city centres (thus cutting down the length of our journeys), have much lower levels of car ownership and higher dependency on public transport so generally lower CO2 emissions. However much more of us or in fuel poverty, living in poor qulaity high density public housing.
Most GUACS students walk to work, only a few drive, and most use public transport every day.
We feel that that this workshop generated healthy and powerful dialogue and there was a thirst for more workshops and a keenness to build a wider network between the student and wider community. We are soon to start the rest of the workshop series across Scotland with a wide range of organisations and individuals. Even throughout the process, and before the events have started, it has been a strong and positive process building a network on race and environment grounds between people and groups who hadn't previously made the connection.
The workshop on April 2nd at the A&CN Annual General Meeting was led by Dr Asma Abdalla of the AMINA Muslim Women's Resource Centre and focused on the UN Climate Change conference in Addis Ababa, Ethiopia which Dr Abdalla attended in October 2010. She highlighted the results of the UN Conference where many developing nations resisted the agenda of developed countries to limit the CO2 reductions and spending pledges they were expected to make. The poorer countries successfully argued that richer nations were responsible for the CO2 emissions causing climate change damage in Africa. Several commissions and bodies were set up under the auspices of the conference to tackle technological issues, ClimDev – including a Climate Development Bank to mitigate the effects of climate change. A common African position was also agreed for international negotations. The main thing that came across was that African countries' policymakers were actively discussing solutions to tackling climate change, in keeping with the need to develop the economies of poor countries. A&CN members were now much better informed about these.
Notes
(1) Hard to Reach?Diversity and Environment' findings' – www.capacity.org.uk/downloads/hard_to_reach_manifesto.pdf.
Race Impact Assessment Terminal 5 – Race Impact Assessment Terminal 5,
(2) http://www.independent.co.uk/news/world/africa/visible-from-space-deadly…
(3) http://www.endsreport.com/docs/20090820a.pdf – Most black and Asian people breathe worse air than white Britons, according to environment department (DEFRA) research. DEFRAs analysis compares 2001 census data, which covered ethnicity, with estimated emissions of coarse particulates (PM10) from motorways and major A-roads. The average black or black-British African in the UK person was exposed to 27.25 micrograms per cubic metre of PM10. This is over 28% higher than the average urban white person.
(4) One recent UK example is the support from anti-racist advocates for the recent 'Climate9' (www.climate9.com climate change trial
Campaign Goals
Debate climate change causes, impacts and solutions in Niger Delta region's oil extraction, Haiti's earthquake, and Darfur-Sudan's and DR Congo's land and resource wars.
Highlight the rapid changes needed to reduce high carbon-emitting and wasteful consumptive activities amongst A&C communities in Glasgow.
Provide tools and perspectives for developing multiracial perspectives and inclusive strategies for direct action through videoconference links with MEND (Nigeria); Capacity Global (UK) and author/activist Van Jones (US) – making solidarity links between affected communities in African and Caribbean
Highlight the inspiring tradition of resistance to environmental racism by marking the 15th Anniversary of Saro Wiwa's execution with a guest speaker from Remember Saro Wiwa campaign.
Overcome barriers to participation by (a) Challenging perceptions of those interested in climate change on race and class grounds; (b) Relating climate change to immediate concerns of poverty, unemployment & poorer housing;
(c) Providing platforms for refugees and asylum seekers to speak about climate justice – a key reason for seeking sanctuary; (d) Encouraging our communities to take the necessary positive action for climate justice;
(e) Challenge Scottish A&C attitudes to climate change – and make preparations by reducing high carbon emitting activities and wasteful consumption; (f) Encouraging greater A&C participation and planning of future environmental justice self defence action programmes